Do I Need a Tire Rotation?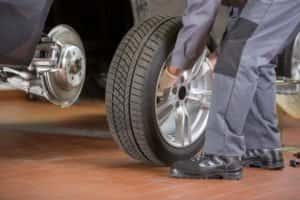 Between oil changes and transmission flushes, there's a lot to juggle when you own a car. However, a little knowledge can go a long way! In this guide, we'll help you determine "Do I need a tire rotation?" A tire rotation is a simple, but crucial part of your auto maintenance schedule. Proper tire care ensures that your vehicle handles like a dream, which can lead to big benefits in safety and even fuel economy! Learn more about the process with Bill Kay Ford, and then schedule your service with us.
What is a Tire Rotation?
Your car has four tires that sit in their own corner of the vehicle. If you left your tires in the same place, they'd develop uneven wear and tear. The front tires tend to wear out the fastest for a number of reasons. Not only are they placed directly under the heavy engine, but they also bear additional force during braking. It's practical to rotate the tires periodically to encourage more even wear, which can prolong the life of the set.
How Often Do I Need a Tire Rotation?
There are many different factors to consider when scheduling your next service. Generally speaking, technicians recommend rotating your tires every 3,000 to 7,000 miles. You can also rotate your tires during every other oil change for convenience. However, your best bet is to consult your owner's manual for more specific recommendations. Your manual should tell you the best schedule for tire rotations, along with the best rotation pattern for your model. While most models swap the front and rear tires equally, other vehicles have their own quirks. Maybe you have unidirectional tires or bias ply tires. If so, simply bring your car into the shop. Our experts have seen it all!
Schedule Your Service Today!
Now that you know a little more about the process, do you think it's time for a tire rotation? Visit Bill Kay Ford, and we'll take care of your car in a jiffy! This low-cost service can make a huge impact on the performance and longevity of your vehicle, so why wait any longer? Contact us online for more information, or just stop by our dealership in Midlothian!