RESERVE YOURS NOW!!! The All-New Ford Mustang Mach-E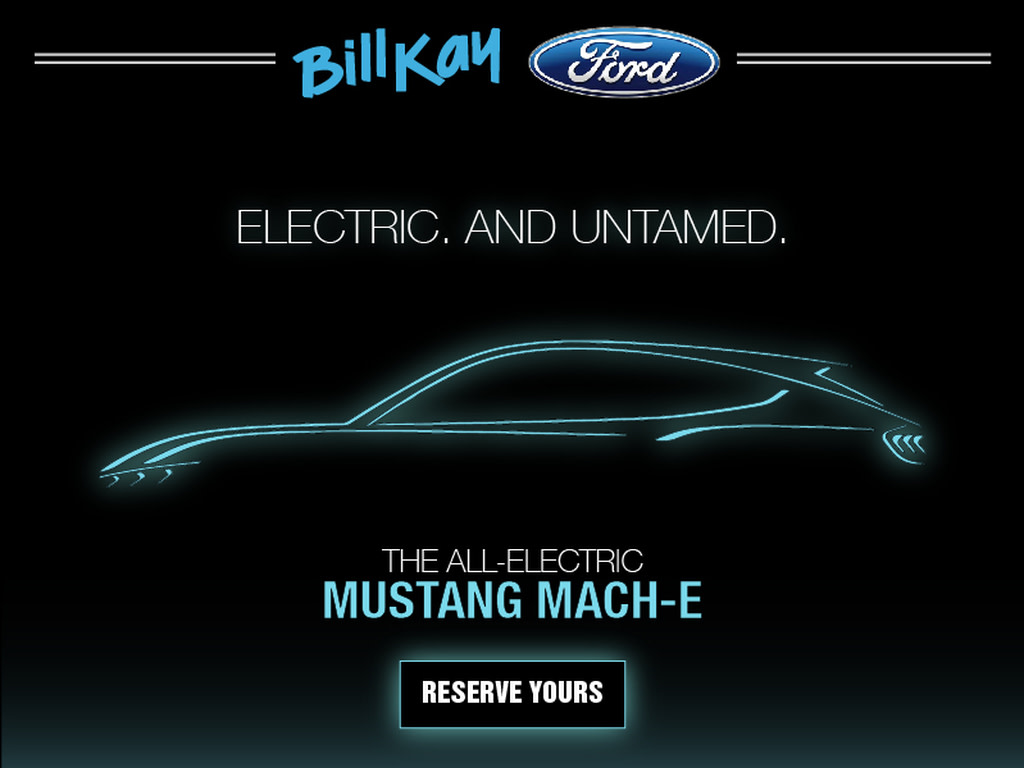 Starting MSRP Coming Soon
All-electric powertrain with standard-range (75.7 kWh lithium-ion battery) and extended-range (98.8 kWh battery) options with a targeted maximum range of an EPA-estimated 300 miles
Mach-E GT Performance Edition targets 0-60 mph in the mid-3-second range and an estimated 342 kW (459 horsepower) and 830 Nm (612 lb-ft) of torque
Drainable front trunk storage unit with 4.8 cubic feet and interior cargo capacity of 59.6 cubic feet
Three unique drive experiences - Whisper, Engage, and Unbridled
Next-generation SYNC with 15.5-inch touchscreen display
Charge time - 10% to 80% in approximately 38 minutes while charging on a DC fast charging station (standard range)
Ford mobile charger (included) adds an estimated average range of 22 miles per charging hour on a 240V outlet
About the Ford Mustang Mach E
A first in the iconic 55-year legacy of the Mustang, Ford has expanded the lineup to include the all-new electrified Mustang Mach-E. Engineered with the same principles which have made the Mustang a driver-favorite across the world, the Mustang Mach-E continues the model's reputation for potent performance, a rebellious spirit, and driving freedom. Born just a few blocks from the original Ford factory in Detroit, MI - the Mustang Mach-E has been created with an emphasis on meeting all the needs and desires of its drivers. This groundbreaking SUV combines a sleek yet bold silhouette with exhilarating performance and efficiency from its electrified powertrain. Thanks to an inspired blend of thrilling performance and everyday practicality, the Mustang Mach-E is able to adapt to all types of driving styles. Drivers can choose from two range options, have ability to charge quickly with DC fast charging stations, and also be able to use an on-board Ford mobile charger. Cutting-edge infotainment features, configurable drive modes, and a truly remarkable driving experience highlight the strengths of the all-new Ford Mustang Mach-E.
"At long last, Ford is getting serious about electric cars, but the automaker is taking a slightly different tack from other mainstream automakers. Rather than focusing on an eco-friendly image, Ford wants to excite enthusiasts and tech-savvy buyers by offering more performance and capability, along with its latest technology features, in an emotive package." -- Edmunds
"One thing's guaranteed: This new electric Mustang SUV will be one fast pony. With the extended range battery, the all-wheel-drive Mach-E will produce 332 horsepower and 417 lb-ft of torque, meaning it should hit 60 mph more quickly than the base Porsche Macan." -- Kelley Blue Book
Ford Mustang Mach-E Features
Bold Styling
Living up to the legacy of the Mustang nameplate, the Ford Mustang Mach-E stands out with its performance-focused exterior appearance. Quintessential design elements found on the exterior include a muscular hood, raised rear haunches, striking headlights, and signature tri-bar taillamps. Both styling and functional, innovative engineering lets the Mustang Mach-E make zero compromises on both overall cargo space and rear-seat passenger room. A unique front trunk compartment features 4.8 cubic feet of space along with a drain plug, especially useful for taking cold beverages to the beach or to a tailgate party. A departure from the bland, uninspired styling of other EVs currently on the market, the Mustang Mach-E is truly unlike any other electric SUV on the road. In the same fashion that the Mustang has captivated drivers across the globe, the Ford Mustang Mach-E continues the passion of this legendary namesake.
Electrifying Performance
Marking the start of a new era of Ford electric vehicles, the Mustang Mach-E can be equipped with your choice of either standard and extended-range battery options featuring either rear-wheel drive or all-wheel drive complemented by permanent magnet motors. Rear-wheel drive and extended-range battery models target an EPA-estimated 300 miles of total range. Two performance models, the GT and GT Performance Edition, turn up the thrills even further. As a matter of fact, the GT Performance Edition delivers 342 kW (459 horsepower) and 830 Nm (612 lb-ft) of torque along with a 0-60 time in the mid-3 second range. Charging times remain equally as impressive, with an estimated charge time from 10% to 80% in just 38 minutes using a DC fast charging station. For enhanced performance in extreme temperatures and faster charge times, the Mustang Mach-E batteries are liquid-cooled.
Tech-Focused Interior
To complement its futuristic electric performance capabilities, the cabin of the Ford Mustang Mach-E impresses with a collection of cutting-edge tech features. Making its debut inside the Mustang Mach-E is the latest iteration of the SYNC® communications and entertainment system, featuring machine-learning capabilities to adapt to the preferences of the driver featuring over-the-air updates. Positioned in the center of the dashboard is an expansive 15.5-inch touchscreen display with swipe, pinch, and touch functions that every smartphone user should be familiar with. Ambien lighting lets you set the mood of the interior to suit your preferences. An excellent choice for those living active lifestyles, the Mustang Mach-E offers a total of 59.9 cubic feet of cargo capacity. Sleek, minimalist, and modern are only three ways to describe the futuristic interior of the Ford Mustang Mach-E.
Select
Estimated Starting MSRP - $43,895*
Premium
Estimated Starting MSRP - $50,600*
California Route 1
Estimated Starting MSRP - $52,400*
First Edition
Estimated Starting MSRP - $59,900*
GT
Estimated Starting MSRP - $60,500*